Atlanta Pet Fair 2022: Conditioners, Humectants, and Emollients and How They Can Be Used to your Advantage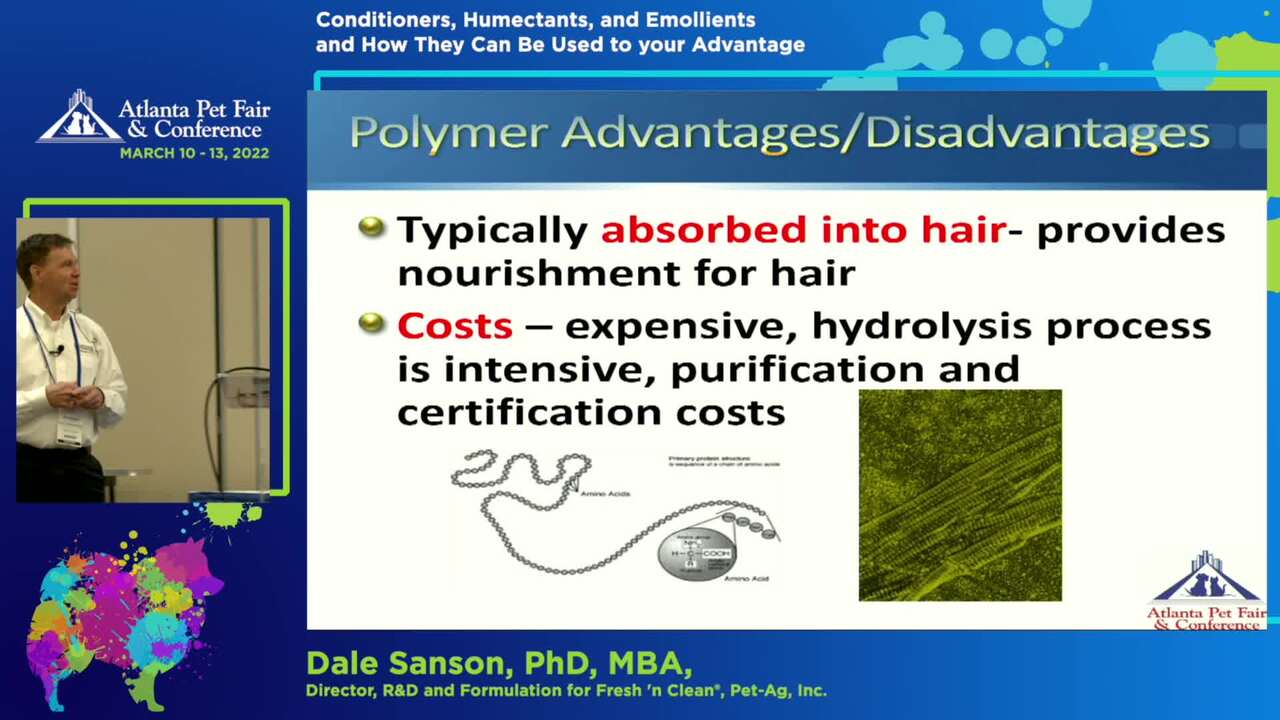 This video content is exclusively for Learn2GroomDogs members.
To watch the full video, either
Login
or
Explore Membership
today!
Video Description
About Dale Sanson
Runtime:
1:09:09
Level:
Information
Advances in Cosmetic Chemistry have allowed the inclusion of conditioners in shampoos. The 2/1 shampoos can be found that promise conditioning and cleansing in one step. There are advantages to using these products, but conditioners should still be used in your grooming process. However, conditioners are not all the same and include humectants, emollients, hair/coat enhancers, oils, and silicones.
The attributes of each of these conditioner types will be discussed to educate you on proper usage. Some conditioners can be used for enhancing both wet and dry combing, while others are used in finishing sprays to enhance coat shine. The structure of dog/cat hair will be discussed as well as how conditioners interact with the anatomy of hair. Bet you didn't know that many of these conditioners also soften groomer skin as well as the family pet's skin!
Read Full Bio
Dale Sanson
Certifications: PhD, MBA
Company: Pet-Ag, Inc. Director, R&D and Formulation for Fresh 'n Clean®
Dr. Dale Sanson has been a Formulation/Organic chemist for over 30 years and obtained his doctorate at the University of Missouri, Columbia. He also has holds BS degrees in Chemistry and Counseling Psychology, as well as an MBA in Management. He is an active member and acting Secretary for the St. Louis Chapter of the Society of Cosmetic Chemistry. He is the Pet-Ag, Inc. Director, R&D and Formulation for Fresh 'n Clean® specializing in new product development and stability determination. In his spare time he enjoys "bad" black and white science fiction films, Star Trek and gardening.