Part 2 of 3: How to Style a Doodle That Sheds (Grooming the Legs)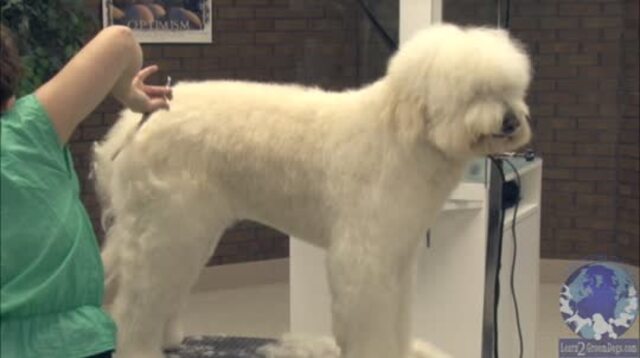 This video content is exclusively for Learn2GroomDogs members.
To watch the full video, either
Login
or
Explore Membership
today!
Video Description
About Misty Fowler
Runtime:
14 minutes, 18 seconds
Level:
Beginner
Who said Doodles don't shed? In this session, Misty Fowler shares some grooming techniques on a Doodle that has a soft down undercoat (that sheds) combined with a harsh, wiry outer coat. She explains the differences in Doodle coats and shows you tools and techniques to help reduce shedding and set the coat up for a beautiful trim. Misty does a fabulous job showing you how to use blenders to get a long, layered trim in a manner that is both appealing and timely.
We have broken this demonstration into 3 chapters for easier uploading and viewing.
In this video you will learn:
• Which tools work best to remove downy undercoat.
• How to get a beautiful, natural looking finish, all by hand.
• How to use the pets anatomy to set the lines on the trim.
• How to set parallel lines (great camera views!).
• How to style the head in sections.
Misty Fowler
Certifications: CMG
Misty Fowler has over 20 years of experience in the pet grooming industry.  She is a Certified Master Groomer, an award-winning stylist, and a three-time member of GroomTeam USA's top 10 groomers.
Misty was a lead trainer at the Paragon School of Pet Grooming.  She is currently an active pet stylist at Whiskers Resort & Pet Spa. Her specialties include hand scissoring, breed profile trimming, speed, and efficiency.
Categories
Feature Type
Levels
Breed Group
Breeds In This Video