What are the Benefits of Certification Testing?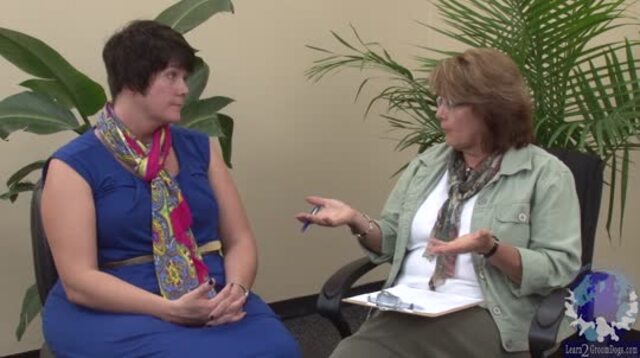 This video content is exclusively for Learn2GroomDogs members.
To watch the full video, either
Login
or
Explore Membership
today!
Video Description
About Melissa Verplank
About Michell Evans
Melissa Verplank
Certifications: CMG
Melissa Verplank - CMG, has over 30 years' experience in the pet grooming industry. Her mastery of grooming techniques has won her numerous awards on a national & international level earning her the right to become a team member on GroomTeam USA. She has been the GroomTeam Coordinator and currently sits on the Board of GroomTeam USA. Ms. Verplank is an industry speaker, author, two time Cardinal Crystal Achievement award winner, Barkleigh Honors award winner and contest grooming judge.
During her formative years she ran a fleet of mobile grooming units and a busy grooming salon. In 1992, Verplank founded one of the Midwest's largest and progressive pet styling training centers; The Paragon School of Pet Grooming Inc. in Jenison, Michigan. Ms. Verplank realized the need for quality training and reference materials. To meet that need she created White Dog Enterprises Inc., a business which develops creative learning products for the professional pet stylist. The leading products for this company are Notes From the Grooming Table, The Theory of Five, and core-skill method training videos geared to training professional pet groomers. In 2007 she opened Whiskers Resort & Pet Spa. The resort has become the premier boarding facility in the west Michigan area offering luxury accommodations for boarding, daycare, grooming, and pet training. In 2010, Melissa launched her latest educational business, Learn2GroomDogs.com, an on-line streaming video library of educational material for all levels of professional pet grooming and styling.
Most recently, Melissa has earned the 2016 Barkleigh Honors Award for Book of the Year with the release of the second edition of Notes From the Grooming Table.  Her website, Learn2GroomDogs.com also was its third consecutive Barkleigh Honors Award for Website of the Year.
Michell Evans
Certifications: NCMG, CMG
Michell Evans is a multi-Best in Show and Best All Around groomer. She is Certified Master Groomer through National Dog Groomers Association of America (NDGAA) and the International Professional Groomers Incorporated (IPG) and International Society of Canine Cosmetologists.
She is the proud recipient of the 2011 Barkleigh Honors Competitive Groomer of the Year Award. She is also the first competitor to have the honor of earning a spot for her name on the John Nash Memorial Trophy.
She earned the Liz Paul Memorial Trophy for 2011 and Liz Paul Best Scissored Poodle Award.
She was a nominee in 2011 and 2012 for the prestigious Crystal Grooming Awards, Competitive Groomer of the Year.
Michell is a judge, speaker and demonstrator at the top trade shows around the country.
She was a GroomTeam USA member 2009-2012 and was the hand stripping member of the Silver Medal winning team at the World Team Championships in 2011. She represented the United States again in Barcelona, Spain in 2013.
For more information about lessons with Michell please contact her at michell@groomingtutor.com or (505) 830-9123.