Introducing Puppies to Grooming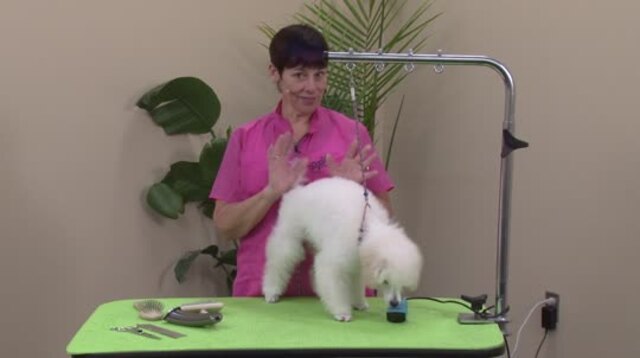 This video content is exclusively for Learn2GroomDogs members.
To watch the full video, either
Login
or
Explore Membership
today!
Video Description
About Suesan Watson
Runtime:
34 minutes, 45 seconds
Level:
Beginner
Suesan Watson is a respected contest stylist and a Wahl platform demonstrator. She is also a third generation pet stylist. She and her sister, Lisa Leady, literally grew up on the grooming room floor!
In this video lesson, Sue works with a typical Poodle puppy. How you handle the first couple grooming sessions will be the maker or breaker of how this dog acts as an adult. It is critical that the first grooming experiences be positive lessons. You will either create a dog that is pleasant to groom all its life – or – it could become a monster for future haircuts. Sue shows you how to successfully start a young dog with the grooming process.
This is a typical puppy. He is not particular fond of many of the routine tasks Sue asks him to accept. He struggles. He squeals. He hops around. He nibbles on fingers. Sue does a beautiful job showing you how to gently work with a young dog – no matter what the breed.
What is the #1 thing most puppies object to? Giving up control. Many get pretty upset. Andthis youngster doesn't disappoint us. He proves to be a perfect demonstration pup for this lesson! Watch as Sue works through this little guy's emotional frustrations in a manner that does not trigger a total meltdown.
All puppies have important lessons to learn. Sue has many rules when it comes to introducing any puppy to the grooming process: Be patient. Be persistent. Don't give up. Always end on a positive note. Don't push a young dog beyond what it is capable of dealing with.
No – the first groom may not be beautiful. That's OK. Your job is to not give up on the puppy. It's more important give it a positive grooming experience to build upon so you win it's trust and cooperation with future groomings.
In this video you will learn:
Why it's so important for a puppy to have positive grooming experience.
Where to start with a young dog.
How to get puppy accustom to clippers.
When it the right time to stop grooming puppy.
Holds that are safe and secure for a youngster.
Suesan Watson
Certifications: CMG
Suesan is a third generation pet stylist whose dynamic career stretches over 40 years. A "Certified Master Groomer", she owns a successful mobile grooming business, serving the Chicago/Northwest Suburban area. Sue is proud to be part of Wahl's "Extreme Team" and is approved by the "United Show Managers' Alliance" as a "Sanctioned Judge".
She began grooming competitively in 1995, and has received many class and group placings. Sue is a winner of the "Wahl 2003 Groomer of the Year" award, and only recipient of three consecutive "Cardinal Crystal Grooming Achievement Awards for American Groomer of the Year". In addition, Suesan has been nominated multiple times for "Cardinal Grooming Contest Judge of the Year", and Cardinal "Congeniality" awards.
Making "Groom Team USA" in 2000, Suesan was in the top five positions for five years in a row, before retiring from competing to become a judge in 2005. Her 2004 placings garnered her the honor of competing with the "Groom Team USA Travel Team" in France, in 2005; with the USA team placing second, only one point behind France. Sue also won "Best Clipping" recognition with her Mini-Poodle in the "individual open class", at the same competition.
Her keen eye for dogs, understanding of the "standards" and knowledge of grooming techniques, coupled with her pleasant demeanor, has made Sue a sought after competition judge and speaker, both in the United States and abroad. And with a natural ability to communicate grooming techniques to others in an understanding and often-humorous way, she regularly draws crowds at her seminars and grooming demonstrations around the country. Sue also does private hands-on seminars with individuals and smaller shop groups.
Categories
Feature Type
Techniques
Levels
Breeds In This Video