Part 2 of 2: What Do You Do With a Wire Coated Doodle? Working with a Sparce Coat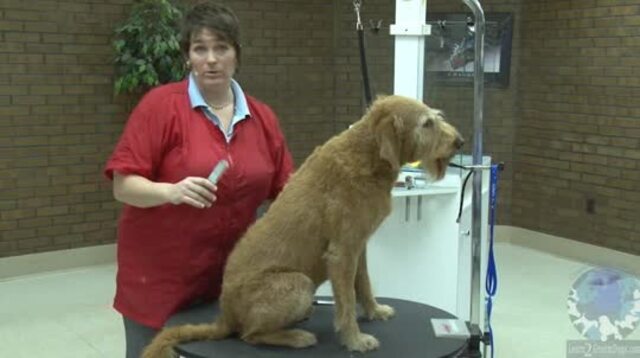 This video content is exclusively for Learn2GroomDogs members.
To watch the full video, either
Login
or
Explore Membership
today!
Video Description
About Jennifer Hecker
Runtime:
25 minutes, 38 seconds
Level:
Beginner
Do you have Doodles in your client file that just don't have the traditional soft, wavy coat? In this session, Jennifer Hecker shows you how to work with the dog that has a very sparse, wiry coat. He has an abundance of long, harsh coat over his spine making him look a bit like a hunchback. Yet, he is sparsely coated on his legs. Jennifer shows you how to make this dog look fabulous with some very basic hand stripping techniques. She gives him loads of personality by playing up his tiny eyebrows, accentuating his beard and giving him tassel ears. By the time he is done, he is a much more balanced dog. The finished look is much more pleasing to the eye. This is a super easy trim to do, even if you are a novice at hand stripping!
In this video you will learn:
Why dirty coats can make hand stripping easier.
Which are the best stripping knives to use for a novice.
How long this type of coat go can between professional groomings.
What to do if the parting tool catches in the coat.
What owners appreciate about removing a large portion of the undercoat.
Jennifer Hecker
Certifications: CMG
Jennifer Heckler has over 14 years of experience in the pet grooming field.  She is a Certified Master Groomer, an award-winning contest stylist, a lead trainer and active pet stylist, and a high-level competitor in French Ring Sport.  Ms. Heckler is active in the AKC conformation show ring and has the USA #1 Dandi Dinmont Terrier in 2010. Her specialties include hand stripping, breed profile trimming, speed, efficiency, and mobile grooming.
Categories
Feature Type
Techniques
Levels
Breed Group
Breeds In This Video
Coat Type