Part 2 of 3: Show Grooming a Dandie Dinmont Terrier: Styling the Furnishings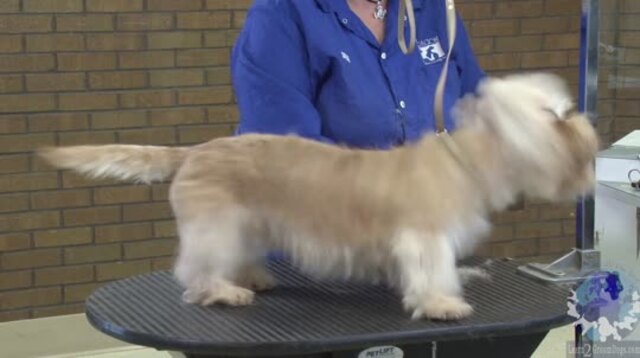 This video content is exclusively for Learn2GroomDogs members.
To watch the full video, either
Login
or
Explore Membership
today!
Video Description
About Jennifer Hecker
Runtime:
13 minutes, 27 seconds
Level:
Advanced Stylist
Jennifer Hecker is passionate about 'her breed,' the Dandie Dinmont Terrier. Originally, she wanted a dog that could showcase both her hand-stripping and scissoring skills at pet grooming contests. The Dandie Dinmont fit the bill. She did exceptionally well in the contest arena and she took it much further.
Jennifer started showing in the AKC breed ring with her first Dandie Dinmont Terrier. Jennifer has earned a solid reputation for excellence in grooming this breed and has mastered it so well that she now travels the world helping other Dandie breeders get their dogs ring ready.
The dog Jennifer uses in this lesson has been in the top 5 Dandie Dinmont Terriers multiple times. He has been invited to both Westminster and Crufts. Watch as Jennifer shows you how to get him show ready. She uses both hand-stripping and scissor skills to get the classic curvy look. This breed should have a 'wise and knowing' expression and Jen shows you how to bring out that expression in the eyes. Getting the Dandie ear right can be confusing but Jen makes it easy to understand.
BONUS! Get Jen's super tips on products to use on this coat type to help accentuate the correct breed profile.
We have broken this lesson into three chapters for you. By breaking it into these individual sessions, you will be able to focus quickly on the sections that most interest you. Or – sit down, relax, and enjoy the entire video lesson.
In this video you will learn:
• how to make the breed curvy – but not cartoonish.
• where to set the lines on the head.
• what shape to think of when setting the chest.
• how to style the ears.
• where to get additional information on correct grooming practices for individual breeds.
Jennifer Hecker
Certifications: CMG
Jennifer Heckler has over 14 years of experience in the pet grooming field.  She is a Certified Master Groomer, an award-winning contest stylist, a lead trainer and active pet stylist, and a high-level competitor in French Ring Sport.  Ms. Heckler is active in the AKC conformation show ring and has the USA #1 Dandi Dinmont Terrier in 2010. Her specialties include hand stripping, breed profile trimming, speed, efficiency, and mobile grooming.
Categories
Feature Type
Levels
Breed Group
Breeds In This Video