Part 3 of 3: Grooming a Pet Dandie with a Show Dog Comparison: Styling the Head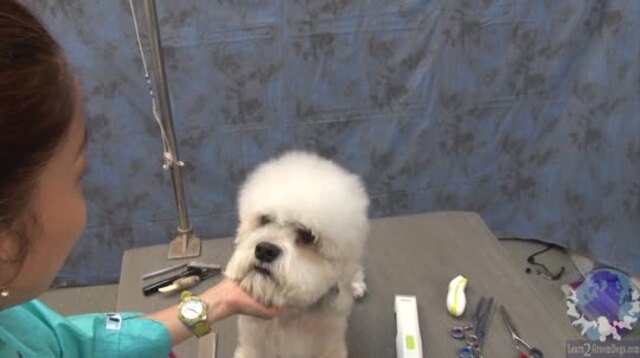 This video content is exclusively for Learn2GroomDogs members.
To watch the full video, either
Login
or
Explore Membership
today!
Video Description
About Kamoko "Koko" Tanaka
Runtime:
30 minutes, 51 seconds
Level:
Stylist
Koko opens the lesson by showing you an example of an AKC Champion Dandie Dinmont Terrier. This AKC Champion is a beautiful specimen of the breed. By putting a pet dog and an AKC Champion side-by-side, Koko shows you the difference between a hand-stripped coat and a clipped coat. She also points out a number of the unique characteristics of a Dandie including; their overall body structure and the mixture of coat textures they should possess.
Even though the techniques to trim a pet dog are different than a show dog, the pattern lines remain the same. Koko shows you how to clipper cut a pet Dandie Dinmont Terrier. As she styles the dog, she's very conscious to retain the essence of its breed profile. She demonstrates how to set the pattern on the dog using bone and muscle structure. As Koko grooms the dog, she shares with you what types of tools she uses to achieve the natural look she is after.
One of the most unique characteristics of a Dandie Dinmont Terrier is its head. Koko does a beautiful jobexplaining how to get the overall shape of the head. What lines and reference points you should use to style the headpiece. Dandie's have large round eyes with a soft expression. Koko shows you some tricks to really make the eyes stand out.
Koko has not been in the United States all that long. English is not her native language yet her understanding of grooming and breed profile trimming is clear. If you've never had the opportunity to groom a Dandie Dinmont Terrier, this is a great lesson to watch.
In this video you will learn:
• Why there is a color change between a clipped coat and a hand-stripped coat.
• What is the best way to go about clipping the body.
• How to set the pattern lines.
• How to accentuate the eyes.
• What image works well in your mind to envision the correct shape of the headpiece.
Kamoko "Koko" Tanaka
Certifications: NCMG, CMG
Kamoko (Koko) Tanaka was born and raised in Tokyo, Japan. She studied ballet in Japan. She came to the USA as a professional dancer at Walt Disney World's Epcot Center. When Koko's dancing career ended due to an injury, she began searching for another career. After researching several choices, she tried dog grooming. She quickly discovered this was her niche.
Koko began competing in 2003. Three years later she won the Rising Star of the Year award. Since then, she has become well respected in the contest area, winning multiple Best in Shows and Best All Round Groomer awards.
Koko earned her place on GroomTeam USA in 2007 and 2008. In 2009 she had the privilege of representing the United States in the World Team Grooming Championship in Germany. By winning the bronze medal in the hand stripping class, Koko helped her team bring home the Gold for the United States.
She was nominated for the Cardinal Crystal Achievement Award for American Groomer of the Year in 2008.
Koko has retired from the competition ring. Today, you will find her focused on her mobile grooming business. She also enjoys mentoring advanced grooming students from the United States and Japan. Koko is an industry speaker and judge in the USA and in her homeland of Japan.
Koko currently lives in Tennessee. She owns her own mobile grooming business called Koko's Paws.
Koko's Paws
Ms. Koko Tanaka
Email: info@kokospaws.com
Categories
Feature Type
Techniques
Levels
Breed Group
Breeds In This Video