Part 4: Grooming a Bouvier des Flandres: Finishing the Head & Final Details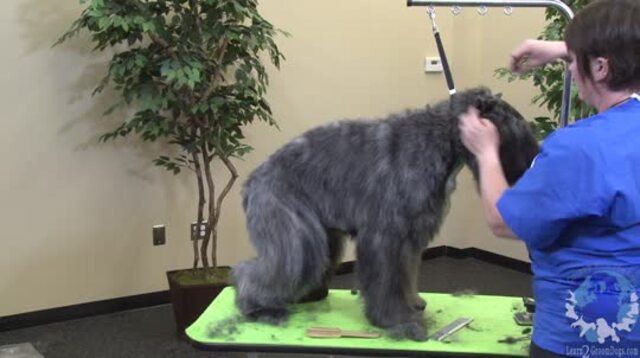 This video content is exclusively for Learn2GroomDogs members.
To watch the full video, either
Login
or
Explore Membership
today!
Video Description
About Jennifer Hecker
Runtime:
11 minutes, 44 seconds
Level:
Stylist
Many of you have requested this grooming lesson. We are thrilled to bring you Beckett, a 14-month-old AKC Champion Bouvier des Flandres! This large and powerful breed has a coat that can be surprisingly maintenance-free. These dogs should not be overly trimmed and should appear very natural, rough-coated, and rugged.
In this lesson Jennifer guides you through a traditional hand-stripped Bouvier trim. She talks about the breed standard, what the breed was originally bred to do, what type of coat a Bouvier 'should have' if the coat is correct, and where to set the pattern lines. Jen also talks about the tools needed to get the proper look for the breed.
This particular dog had been living with Jennifer for about six weeks prior to this film shoot. It's very evident that Jennifer has a newfound respect and appreciation for this breed. If you knew Jennifer's history with the Bouvier des Flandres breed, you'd really be impressed with this lesson and her attitude towards the dog. (Check out Melissa Verplank's blog this week for the full story!)
In this video you will learn:
how this coat is different than that of a hand-stripped Terrier.
which tools to use to get the correct look for the breed.
how to set the pattern.
how to think in terms of a 'reverse poodle head.'
why it's okay to jump around a bit when working on this breed.
Jennifer Hecker
Certifications: CMG
Jennifer Heckler has over 14 years of experience in the pet grooming field.  She is a Certified Master Groomer, an award-winning contest stylist, a lead trainer and active pet stylist, and a high-level competitor in French Ring Sport.  Ms. Heckler is active in the AKC conformation show ring and has the USA #1 Dandi Dinmont Terrier in 2010. Her specialties include hand stripping, breed profile trimming, speed, efficiency, and mobile grooming.
Categories
Feature Type
Levels
Breed Group
Breeds In This Video