Setting the Airedale Pattern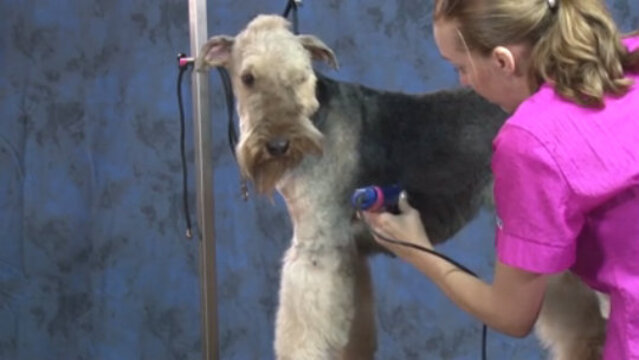 This video content is exclusively for Learn2GroomDogs members.
To watch the full video, either
Login
or
Explore Membership
today!
Video Description
About Amy Triezenberg
About Melissa Verplank
Runtime:
13 minutes, 5 seconds
Level:
Stylist
This Spotlight Session will help you develop your confidence the next time you set an Airedale pattern.
Amy Triezenberg
Ever since Amy Triezenberg can remember, she has always love animals and wanted to work with them. She grew up in South Holland IL, and was home schooled her whole life. Amy attended Great Lakes Academy of Dog Grooming when she was 17.
She competed in her first grooming contest while still in grooming school and won 3rd place. After competing in regular classes for a while, Amy started competing in creative styling.
She went on to win multiple awards in creative including, the People's Choice Award, and the cover of Groomer to Groomer magazine 2007, with her three- legged poodle 'Falore' with her Fallen Solider design.
After success in the creative styling arena, she resumed her focused on regular grooming classes. With hard work, she earned her slot as a Top 10 GroomTeam Member in 2009, 2010, 2011, 2012, 2013, and 2016. Amy has also won, The Liz Paul Best Scissored Poodle Award, multiple Best All Around Groomer Awards, and Best in Show at the 2012 Atlanta Per Fair with her signature 'Poodlington' trim.
Amy was the manager of an exclusive, high volume salon, which she loved. However, she made the difficult decision to leave that role with the birth of her first child. She chose a grooming job closer to her home. Three children later, she and her husband decided to open a home-based grooming salon. The flexible hours allow her to spend quality time with her family and dogs.
Amy has written articles for Groomer to Grooming magazine and enjoys sharing what she has learned with private coaching and seminars.
Amy has shown her Kerry Blue Terrier in AKC conformation shows and working on her IPG Certification. She has always appreciated all the people that have helped her along the way. She looks forward to helping others the way that others have helped her.
Currently, she pursues her passion; the education side of grooming. "I love pouring my heart into helping others learn."
Melissa Verplank
Certifications: CMG
Melissa Verplank - CMG, has over 30 years' experience in the pet grooming industry. Her mastery of grooming techniques has won her numerous awards on a national & international level earning her the right to become a team member on GroomTeam USA. She has been the GroomTeam Coordinator and currently sits on the Board of GroomTeam USA. Ms. Verplank is an industry speaker, author, two time Cardinal Crystal Achievement award winner, Barkleigh Honors award winner and contest grooming judge.
During her formative years she ran a fleet of mobile grooming units and a busy grooming salon. In 1992, Verplank founded one of the Midwest's largest and progressive pet styling training centers; The Paragon School of Pet Grooming Inc. in Jenison, Michigan. Ms. Verplank realized the need for quality training and reference materials. To meet that need she created White Dog Enterprises Inc., a business which develops creative learning products for the professional pet stylist. The leading products for this company are Notes From the Grooming Table, The Theory of Five, and core-skill method training videos geared to training professional pet groomers. In 2007 she opened Whiskers Resort & Pet Spa. The resort has become the premier boarding facility in the west Michigan area offering luxury accommodations for boarding, daycare, grooming, and pet training. In 2010, Melissa launched her latest educational business, Learn2GroomDogs.com, an on-line streaming video library of educational material for all levels of professional pet grooming and styling.
Most recently, Melissa has earned the 2016 Barkleigh Honors Award for Book of the Year with the release of the second edition of Notes From the Grooming Table.  Her website, Learn2GroomDogs.com also was its third consecutive Barkleigh Honors Award for Website of the Year.
Categories
Feature Type
Techniques
Levels
Breeds In This Video