Setting Trim on a Cat that Hides the Cookie Pouch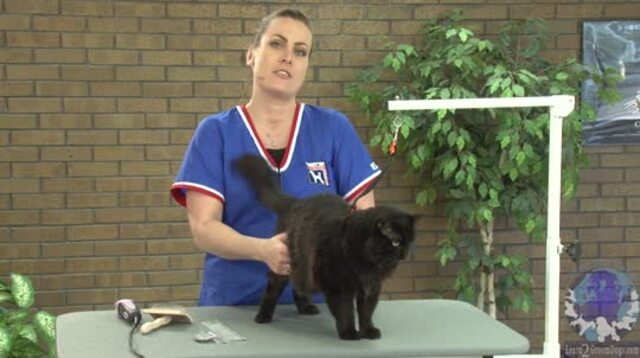 This video content is exclusively for Learn2GroomDogs members.
To watch the full video, either
Login
or
Explore Membership
today!
Video Description
About Kendra Otto
Runtime:
8 minutes, 25 seconds
Level:
Information
Award winning pet stylist, Kendra Otto uses her own sassy cat to demonstrate how to set the lines of this trim. Kendra calls it The Barbary Lion Trim. This is a great haircut option for those clients that want their feline to have a haircut but don't want to lose all of the fur. It's also a super trim to disguise the 'cookie pouch' so many of our inactive house cats have!
Kendra Otto
Kendra Otto graduated from The Great Lakes Academy of Professional Pet Styling in 1997. She was ranked in the Top 10 on GroomTeam USA stylists for four years in a row from 2007 to 2010. Additionally, she was ranked at the #1 stylist in the state of Illinois during that same time period.
To date, Kendra has won multiple Best in Show/Best All Around Groomer awards; multiple creative styling awards, Artistic Innovation award; The Liz Paul Scissoring Award; The Will Stone Award for Kindness to Animals; and several Rescue Rodeos... She was invited to participate in the jackpot contest at Superzoo in Las Vegas in 2009. There she placed 6th out of 50 competitors with a Scottish Terrier. She was honored to be the first recipient of the Groomy Spirit Award, and a nominee for 2009 Cardinal Crystal American Groomer of the Year. She was the first competitor to bring the Rustic Coated Hungarian Pumi into the grooming contest arena where she won 1st place! Kendra was also the creator of the feline 'Barbary Lion Cut' in honor of the nearly extinct Barbary Lion.
In 2013 Kendra opened her own salon called The UpScale Tail Pet Salon. Ltd. in Naperville, IL. The Upscale Pet is recognized as one of the premier Pet Grooming salons in Naperville. They have won several awards including, "Best of Naperville" Pet Age Silver Award. The salon's focus is to promote great pet health and wellbeing, create a trusting relationship with pets and their owners while providing excellent safety and quality services.
Kendra is a published author in industry related magazines. She has also been featured in several pet grooming training videos via Andis home grooming tools; YouTube videos; Learn2GroomDogs.com. Plus, she has been a host for GroomerTV. She's a certified judge with; International Judges Association and a United Show Managers Alliance.
She holds certifications with The International Professional Groomers Association; National Dog Groomers Association of America; Pet Tech Pet 1st Aid & CPR; AKC Salon Safety Certification; Canine Esthetician along with others.
Kendra was the board Secretary for GroomTeam USA from 2011-2013 and a board member from 2012-2014. She is an international representative for the Andis Company and was a representative in 2009 for Chris Christensen Systems.
Although no longer grooming full time, Kendra specialized in grooming challenging and fearful dogs. She enjoys the challenge of gaining their trust while seeing the transformation. This part of her career she finds more rewarding than any award she's ever received. She instills this trait in her business as well. She will not hire anyone who is not willing to do the same. Today, she supports her team, encouraging continued education, training and even has several award-winning competitor stylists employed.
Kendra has taught seminars and judged in Sydney, Australia. She continues to groom a few dogs a year coming from the show circuit.
Categories
Feature Type
Techniques