Basic Handling Techniques for Small, Medium, Large, and Special Needs Dogs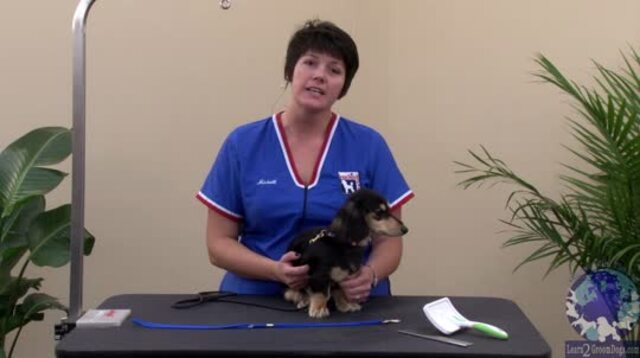 This video content is exclusively for Learn2GroomDogs members.
To watch the full video, either
Login
or
Explore Membership
today!
Video Description
About Michell Evans
Runtime:
32 minutes, 28 seconds
Level:
Beginner
This is a great lesson for a novice groomer or anyone that struggles with winning the trust and cooperation of a dog. Michell Evans is a highly skilled pet stylist with a lifetime of grooming experience. Michell is also an experienced teacher in the dog grooming profession. She has traveled extensively with her business, The Grooming Tutor, coaching and teaching pet lovers around the world.
In this lesson, Michell walks you through the basics of pet handling on multiple dogs. She shows you typical holds any pet professional will need to use when grooming a dog. Michell also discusses the importance of a safety loop and how to adjust it correctly.
She starts with small, medium and large pets plus a large dog with some physical limitations. She focuses on a number of areas while working with all dogs.
winning the trust of the pet while on the grooming table
keeping the dog comfortable
keeping the dog safe
keeping the pet handler safe as they work on the dogIf you are a fresh to the grooming world, or have inexperienced staff that could use some basic training on pet handling, this is the video for you!

In this video you will learn:

how lift a pet of any size onto a grooming table
why it's so important to always use a safety loop on a dog
how to support a dog while lifting it's paws
how to get a dog to stand vs sit on a grooming table
how to teach a dog to turn around when in a confined space such as the grooming table or bath tub
Michell Evans
Certifications: NCMG, CMG
Michell Evans is a multi-Best in Show and Best All Around groomer. She is Certified Master Groomer through National Dog Groomers Association of America (NDGAA) and the International Professional Groomers Incorporated (IPG) and International Society of Canine Cosmetologists.
She is the proud recipient of the 2011 Barkleigh Honors Competitive Groomer of the Year Award. She is also the first competitor to have the honor of earning a spot for her name on the John Nash Memorial Trophy.
She earned the Liz Paul Memorial Trophy for 2011 and Liz Paul Best Scissored Poodle Award.
She was a nominee in 2011 and 2012 for the prestigious Crystal Grooming Awards, Competitive Groomer of the Year.
Michell is a judge, speaker and demonstrator at the top trade shows around the country.
She was a GroomTeam USA member 2009-2012 and was the hand stripping member of the Silver Medal winning team at the World Team Championships in 2011. She represented the United States again in Barcelona, Spain in 2013.
For more information about lessons with Michell please contact her at michell@groomingtutor.com or (505) 830-9123.
Categories
Feature Type
Techniques
Levels
Language