Dematting Tips & Tricks on a Poodle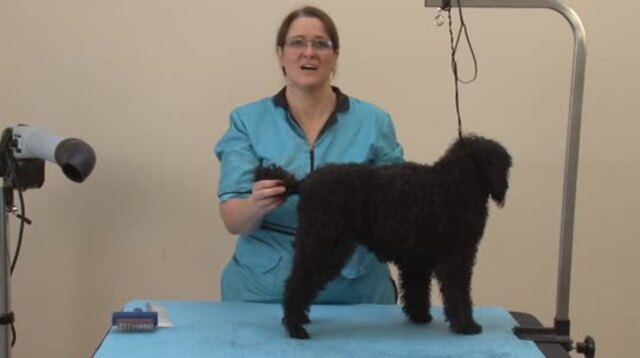 This video content is exclusively for Learn2GroomDogs members.
To watch the full video, either
Login
or
Explore Membership
today!
Video Description
About Karen Tucker
Runtime:
22 minutes, 36 seconds
Level:
Beginner
Dematting. We deal with this every day. It's what guarantees we'll have work tomorrow! We know – it's a love/hate relationship. In this lesson, awarding winning stylist, Karen Tucker gives you a great lesson on how to demat quickly and painlessly. Her key secrets almost make the tangles melt away. We're not talking a severely matted pet – but those pets that come in every 5-6 weeks. These are the owners who don't know what a brush looks like between grooming. How can you save coat, remove knots and tangles while doing it in a manner that is soothing to the pet and efficient for you? Karen will show you how easy it is!
In this video you will learn:
The right time to bathe a pet that has tangles in the coat

• Which tools she uses to remove tangles

• What products she keeps in her misting bottle

• The technique you should be using as you work over a pet

• How to ensure all the mats are removed
Karen Tucker
Certifications: NCMG
Karen Tucker, NCMG (National Certified Master Groomer) was the #1 ranked stylists in the country in 2006 with GroomTeam USA. She has been in the Top 10 ranked stylists in 1997, 1998, 1999, 2000, 2002, 2003, 2004, 2005 and 2006 with GroomTeam USA.
Karen has represented the United States in World Team Competitions multiple times. She has competed extensively in this country and abroad competition as a top level professional pet stylist.
Karen also breeds and exhibits Miniature Poodles. Karen owns Wag'N Splash, a high level grooming salon in central Florida.
Karen is available for private training. Please contact her for cost and availability - 407.830.6655 or cetaceapoodles@yahoo.com
Categories
Feature Type
Techniques
Levels