Grooming a Parson Terrier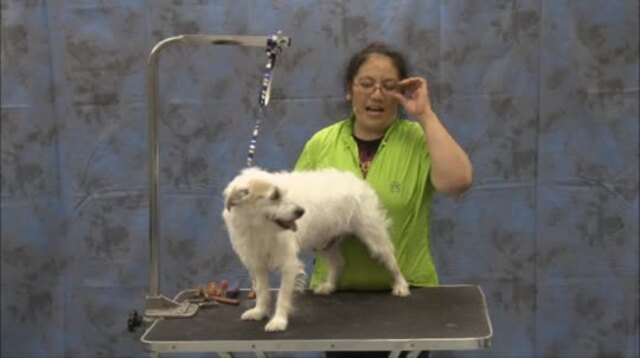 This video content is exclusively for Learn2GroomDogs members.
To watch the full video, either
Login
or
Explore Membership
today!
Video Description
About Annette Quick
Runtime:
49 minutes, 28 seconds
Level:
Beginner
Award-winning stylist, Annette Quick, shows you how you can quickly and easily strip out a super-fuzzy, harsh coat by simply using the correct rakes instead of a lengthy hand stripping process. In this session, she uses her own dog and little did we know, it would turn into not only a grooming lesson, but a handling lesson as well. It seems our own dogs know exactly what buttons to push, and this little guy really turns on his naughtiness for the camera. Watch how Annette not only completes the grooming process, but regains her own composure (on camera) and wins back the control of the situation without using force with this challenging little Terrier.
In this video you will learn:
• What a totally blown coat looks like.
• Tools that can help make the job quick and easy.
• Handling tips for a less than cooperative pet.
Annette Quick
Certifications: CMG
In her first year as a Division A competitor in 1997, she garnered the top spot on GroomTeam USA. Annette maintained a position on GroomTeam USA each year through 2000 and helped the USA Team bring home the silver medal from Eurogroom London, England, and the Gold Medal from Calgary, Alberta, Canada. She has won multiple "Best in Show" and "Best all around Groomer" awards at shows nationally as well as internationally and was the "Best in Show" winner in Argengroom in Buenos Aires, Argentina in 1998.
Annette has shown dogs.  She also has titles in obedience, agility, and confirmation. She has been nominated for several Cardinal Crystal Grooming Achievement Awards and won the award for American Groomer of the Year in 1999.
Annette is active in the pet grooming industry, in an industry speaker and judges at grooming shows.  She is also a member of the Wahl Extreme Team.
Categories
Feature Type
Techniques
Levels
Breed Group
Breeds In This Video