Grooming the Australian Terrier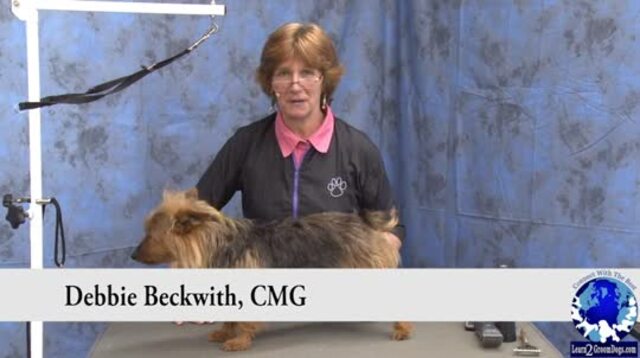 This video content is exclusively for Learn2GroomDogs members.
To watch the full video, either
Login
or
Explore Membership
today!
Video Description
About Debbie Beckwith
Runtime:
51 minutes, 33 seconds
Level:
Advanced Stylist
Long time stylist and trainer, Debbie Beckwith, takes you through the process of correctly grooming an Australian Terrier. She uses hand stripping techniques, combined with thinning shears to get the proper look on this harsh-coated dog. You may not have Australian Terriers walking through your salon door, but if you do, this is the video for you! As a bonus, she'll show you how you can easily apply these grooming tactics on any Terrier or mixed breed dog with a similar coat type. The simple techniques Debbie uses promote a harsh coat that is rich with color. Throughout the video lessons, you'll hear tips and tricks to make your grooming job quick and safe.
In this video you will learn:
• The key points of the breed standard.
• What tools to use and in what order
• How to 'finger pluck'.
• How to style the head to show off the 'thumb print'.
• How to shape the ruff.
Debbie Beckwith
Certifications: CMG
Debbie Beckwith directed and taught at the Southern Institute of Pet Grooming for 20 years. In 2011, she returned to business operation and opened Southern Comfort Groom and Board in South Carolina, which features grooming, styling, and pet boarding.
Debbie has had many career highlights since entering the ring in 1979. She has multiple Best All Around contest wins, was an Intergoom Creative Stylist Champion, and was a GroomTeam member in 1992 in Milan, Italy. Ms. Beckwith won the Clipper Vac Championship Title at GroomExpo in 1997. Though now retired from grooming competition, she was a versatile competitor.
Debbie served on the board of Professional Pet Groomers Certification (PPGC) Inc. She was instrumental in developing the testing methods still used today. She also served as a Certifier for many years.
Debbie is a well-known grooming contest judge, speaker, and is a published writer for trade magazines. She enjoyed a radio spot on Pet Talk, an NPR program broadcast from Clemson University. A recognized AKC Lure Coursing Judge, Debbie, her daughters, and son also enjoy competing in AKC Conformation and Performance events with Sighthounds, Australian Terriers, and Border Collies.
Ms. Beckwith also manages a horse boarding facility, "Wanda Rin D Acres." She enjoys trail riding and staying closer to home.
Categories
Feature Type
Techniques
Levels
Breed Group
Breeds In This Video