Grooming the Pet Miniature Schnauzer (Part 1 of 3-part Series)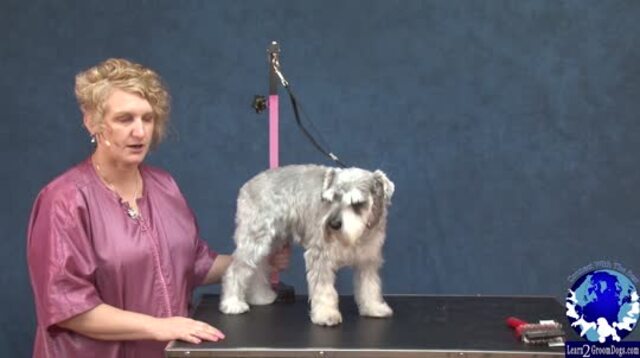 This video content is exclusively for Learn2GroomDogs members.
To watch the full video, either
Login
or
Explore Membership
today!
Video Description
About Tracy Duncan
Runtime:
13 minutes, 23 seconds
Level:
Stylist
I'm not sure about your salon, but the Miniature Schnauzers we see in our shop are less than perfect. Does this statement hold true for you, too?
It's so common to see less than ideal body structure on family pets walking through our salon doors. And what about that super soft fly-away coat? You know the coat texture… it's almost impossible to work with! We don't know a pet groomer that doesn't battle this typical scenario on a weekly basis.
In this lesson, award-winning pet stylist Tracy Duncan guides you through the grooming process. The Miniature Schnauzer she is grooming is similar to what walks through your salon doors every day. It lacks muscle tone. Its conformation is less than perfect. This little dog has enjoyed a few too many cookies to boot. Its coat is soft, sparse, and full of static. Plus, another groomer has removed coat in areas that shouldn't have been. So what do you do to make this dog look its best?
Join Tracy as she shows you her options when it comes to breed profile shop grooming on a less than perfect (but sweet) pet Schnauzer.
In this video you will learn:
• Which blades to use for a more natural look.
• Where to set pattern lines.
• How to style natural ears on a Miniature Schnauzer.
• What never to do on a Schnauzer head.
• How to trim eyebrows in a unique way to get the classic arch in the brow.
Tracy Duncan
Tracy Duncan has been in the pet styling industry since 1991, working in all-breed salons, a large Poodle-specific grooming salon and kennel, veterinary clinics and mobile pet styling salons. In 2001 she began her first successful business, Grooms To Go Mobile Pet Styling in Suwanee, Ga. She decided to transition off of the road and opened The PawPlex, a styling, daycare, boarding, and holistic pet food facility shortly after the birth of her first child.
In 2004, her first time out as a competitor, she won "Best First Timer" in all five classes at the Atlanta Pet Fair and a Group 1 with her Standard Poodle out of the Entry Level division. In her second season of competing she garnered a coveted spot on GroomTeam USA, having success with American Cockers, Airedales, Poodles, and mixed breeds.
She served as the National Secretary for GroomTeam USA from 2007-2011. Tracy was a Cardinal Crystal Achievement Award Nominee for The David G. Salzberg Award for Outstanding Contributions to the Industry when she and her husband gathered funds and equipment to help the groomers on the Gulf Coast after Hurricane Katrina.
Tracy is a speaker and judge at grooming seminars and enjoys mentoring other stylists. She is currently working part-time at The PawPlex, which she sold shortly to stay home with her four children.
Categories
Feature Type
Levels
Breed Group
Breeds In This Video