Grooming the Poodle Like a Kerry Blue Terrier (Part 1 of 2-Part Series: Setting the Body Pattern)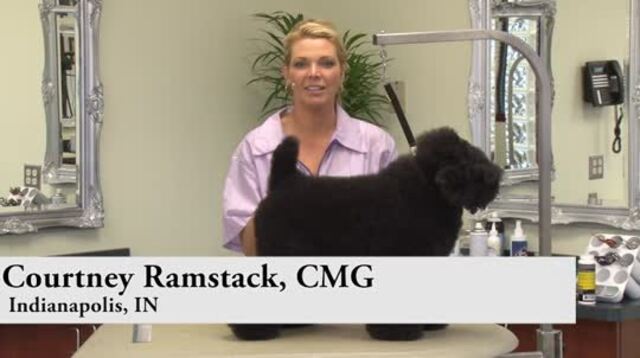 This video content is exclusively for Learn2GroomDogs members.
To watch the full video, either
Login
or
Explore Membership
today!
Video Description
About Courtney Ramstack
Runtime:
44 minutes, 41 seconds
Level:
Stylist
Part 1 – Setting the Body Pattern
Part 2 – The Head and Crest
Want to have some fun in your grooming salon? Try turning one breed into another! Courtney does just that with a retired Champion Miniature Poodle. Courtney has groomed this dog many times but never in this style – that of a Kerry Blue Terrier. Join her as she goes through the transformation. Courtney has a gift for not only grooming but also explaining how and why she does things. In this lesson she discusses the advantages of using guard combs to set the basic outline. She then goes into detail how to set the profile and the challenges you typically face when turning one breed into another. She also does a fabulous job of talking about scissor technique. Courtney shares a wide variety of helpful tips and tricks you could apply to most any pet immediately.
In this lesson, Courtney talks about setting the body pattern using guard combs to save time. She also covers scissor techniques, shaping legs, rounding feet, setting in the front and rear assemblies, plus establishing the topline and the undercarriage line.
In this video you will learn:
Why it's important to 'feel' a dog with your eyes closed.
Tricks to establish the tuck-up so it's right every time.
How to work with your clippers like a paintbrush.
Why you should get 'your motor running' before you even start – set a beat.
How to set in the waist line but not get an 'hour glass' effect.
Courtney Ramstack
Certifications: CMG
Courtney Ramstack began her career in 1998 as a bather and dog behaviorist with a large retail pet store. Courtney spent two years in the role and quickly learned her passion was in grooming and making sure all pets looked their best. Courtney was promoted to groomer and began managing a salon shortly thereafter. In late 2000, Courtney attended a corporate training program conducted by The Paragon School of Pet Grooming. Paragon was instrumental in helping develop her skills, while also teaching advanced grooming techniques. Upon successful completion of the course, Courtney was accredited as a Salon Training Director.
Courtney began competing in professional pet grooming shows where she has numerous placements and wins in the Poodle, Bichon, and Terrier classes. The highlight of her competition career was winning Best in Show and Best in Class with her poodle.
From 2000-2010, Courtney conducted numerous training sessions at three separate locations. Courtney shared her passion for grooming and advanced grooming techniques with over 150 students throughout the Midwest. Some of her students haves gone on to compete and win at high level grooming competitions. Most of her students continue to work in the grooming industry and have opened their own salons. While teaching these courses, Courtney became an IPG Master Groomer and is currently working on dual Master Stylist status with the NDGAA.
Courtney has managed several successful salons. She has had a significant impact in growing sales, and more importantly, she has been instrumental helping clients understand the importance of proper hygiene for their pets. Most recently, Courtney has taken her exceptional grooming talents to a local veterinary clinic in Carmel, IN where she manages award winning stylists while still finding time to groom for her huge client network.
Courtney is married and has two beautiful children that keep her very busy with activities. She has two dogs, a Miniature Poodle (Dolly) that is a Grand Champion, a rescued husky/golden retriever (Hazel) and a cat (Joy).
Courtney is a compassionate leader with a strong sense of quality and attention to detail Her salons have a reputation of beautiful work combined with outstanding customer service. She takes great pride in making her shops a fun and exciting place to work in the Indianapolis area.
Categories
Feature Type
Levels
Breed Group
Breeds In This Video