Hand Scissoring the Standard Poodle in a Stylized Lamb Trim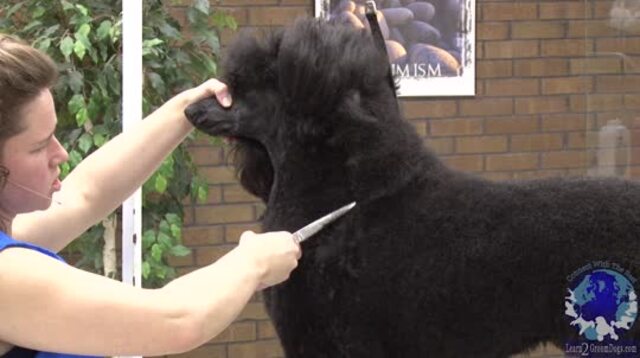 This video content is exclusively for Learn2GroomDogs members.
To watch the full video, either
Login
or
Explore Membership
today!
Video Description
About Misty Fowler
Runtime:
36 minutes, 48 seconds
Level:
Stylist
Misty shows you the finer points of hand scissoring on her retired contest Poodle, Sambuca. In this training session, she shows you how to trim in the body pattern by hand, using the AKC breed standard among with the dog's anatomy to set up the blueprint for the finished trim. This trim and the method Misty uses is suitable for contest pet styling and/or certification testing.
In this video you will learn:
• How to scissor following the bone structure of the pet.
• How to build a chest.
• How to scissor to get a velvet smooth finish on the coat.
• How to choose the right shear for the part of the dog you are working on.
• How to scissor in the front and rear assemblies.
• How to set in the topline.
• How to move around the dog for speed and quality.
• How to scissor those 'hard to reach spots' in the front and rear legs.
Misty Fowler
Certifications: CMG
Misty Fowler has over 20 years of experience in the pet grooming industry.  She is a Certified Master Groomer, an award-winning stylist, and a three-time member of GroomTeam USA's top 10 groomers.
Misty was a lead trainer at the Paragon School of Pet Grooming.  She is currently an active pet stylist at Whiskers Resort & Pet Spa. Her specialties include hand scissoring, breed profile trimming, speed, and efficiency.
Categories
Feature Type
Techniques
Levels
Breed Group
Breeds In This Video