Part 2 of 3: Grooming a Maltese Shih Tzu Mix in a Plushy Guard Comb Trim – Trimming Feet & Legs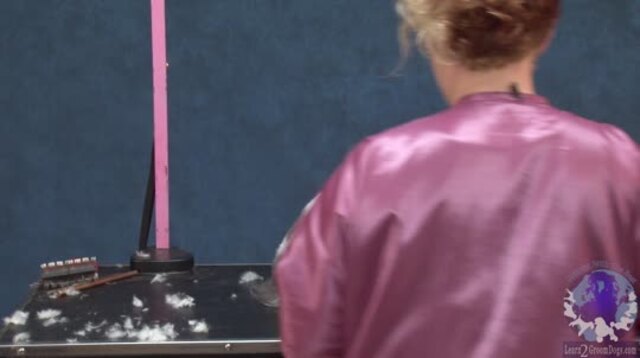 This video content is exclusively for Learn2GroomDogs members.
To watch the full video, either
Login
or
Explore Membership
today!
Video Description
About Tracy Duncan
Runtime:
15 minutes, 59 seconds
Level:
Beginner
Award winning pet stylist, Tracy Duncan says about 75% of the dogs at her shop get this trim. It's super popular. It's cute. It's easy to maintain. It's a good length for multiple seasons. It's a trim the pet can wear all year round. The goal with this trim style is to get the look of a stuffed animal, soft and plushy.
And the best part; it's a fast haircut to do. She says this trim should only take 20-25 minutes to do once the dog is bathed, dried and fluffed out.
In this lesson, Tracy gives loads of details as she works over the dog. She tells you what types of tools she likes best _ and why. She gives plenty of verbal detail on the most basic trimming techniques as she demonstrates how to do it; like clipping the groin area, running the clippers and trimming the feet.
Most stylists are quick to grab the longer guard combs to trim the head. Not Tracy. She does it almost all with straight shears using some great tricks and reference points to get it even.
This is an excellent lesson for new pet groomers struggling with drop coated breeds or just getting their careers started.
In this video you will learn:
which what tools to use to get the plushy look.
how to minimize tracking in the coat.
how to trim the sani area.
how to round the feet.
how to trim the eye area for a softer look (and on a pet that does not want his eyes trimmed!)
Tracy Duncan
Tracy Duncan has been in the pet styling industry since 1991, working in all-breed salons, a large Poodle-specific grooming salon and kennel, veterinary clinics and mobile pet styling salons. In 2001 she began her first successful business, Grooms To Go Mobile Pet Styling in Suwanee, Ga. She decided to transition off of the road and opened The PawPlex, a styling, daycare, boarding, and holistic pet food facility shortly after the birth of her first child.
In 2004, her first time out as a competitor, she won "Best First Timer" in all five classes at the Atlanta Pet Fair and a Group 1 with her Standard Poodle out of the Entry Level division. In her second season of competing she garnered a coveted spot on GroomTeam USA, having success with American Cockers, Airedales, Poodles, and mixed breeds.
She served as the National Secretary for GroomTeam USA from 2007-2011. Tracy was a Cardinal Crystal Achievement Award Nominee for The David G. Salzberg Award for Outstanding Contributions to the Industry when she and her husband gathered funds and equipment to help the groomers on the Gulf Coast after Hurricane Katrina.
Tracy is a speaker and judge at grooming seminars and enjoys mentoring other stylists. She is currently working part-time at The PawPlex, which she sold shortly to stay home with her four children.
Categories
Feature Type
Techniques
Levels
Breed Group
Breeds In This Video