Part 3: How to Groom a Shetland Sheepdog for the Conformation Show Ring: Styling the Head & Trim Recap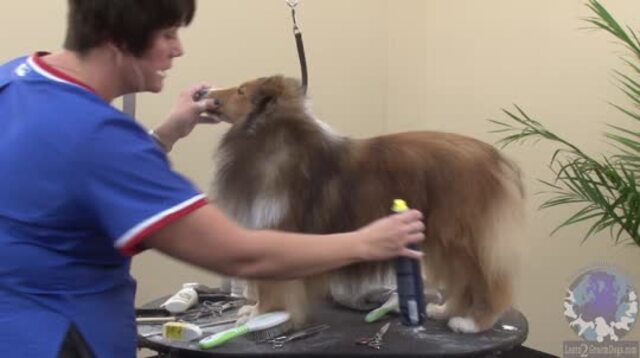 This video content is exclusively for Learn2GroomDogs members.
To watch the full video, either
Login
or
Explore Membership
today!
Video Description
About Michell Evans
Runtime:
10 minutes, 49 seconds
Level:
Advanced Stylist
There is a big difference between show grooming and pet grooming. In this lesson, award-winning stylist, Michell Evans, gives you a wealth of information on show grooming.
Earlier this year Michell groomed the pet Sheltie our L2GD members. In this lesson, she shows you how to prepare a Shetland Sheepdog for the confirmation ring. As Michell says, 'This breed is really dolled up.' There are lots of different products used to get a very fancy look for the show ring. In this lesson, Michell takes you through the process of preparing a show dog. She talks about the variety of products typically used to get a dog ready for the confirmation ring. Michell discussed how to apply them and why they are important. She also shows you which tools work the best to get the correct look in a Shetland Sheepdog.
There are many great take away tips from this lesson regardless of whether you're working on a show dog or not. Many of the techniques Michell talks about can easily cross-over into other breeds with similarcoat types. We have broken this lesson into three segments.
In this video you will learn:
• how trim the feet of a show Sheltie.
• how to build body in a coat.
• why you do not want to remove undercoat from this breed.
• how to hold your thinning shears to get sharp or well blended lines.
• reference points that correspond to the breed standard.
Michell Evans
Certifications: NCMG, CMG
Michell Evans is a multi-Best in Show and Best All Around groomer. She is Certified Master Groomer through National Dog Groomers Association of America (NDGAA) and the International Professional Groomers Incorporated (IPG) and International Society of Canine Cosmetologists.
She is the proud recipient of the 2011 Barkleigh Honors Competitive Groomer of the Year Award. She is also the first competitor to have the honor of earning a spot for her name on the John Nash Memorial Trophy.
She earned the Liz Paul Memorial Trophy for 2011 and Liz Paul Best Scissored Poodle Award.
She was a nominee in 2011 and 2012 for the prestigious Crystal Grooming Awards, Competitive Groomer of the Year.
Michell is a judge, speaker and demonstrator at the top trade shows around the country.
She was a GroomTeam USA member 2009-2012 and was the hand stripping member of the Silver Medal winning team at the World Team Championships in 2011. She represented the United States again in Barcelona, Spain in 2013.
For more information about lessons with Michell please contact her at michell@groomingtutor.com or (505) 830-9123.
Categories
Feature Type
Levels
Breed Group
Breeds In This Video