Part 3 of 4: Grooming the Irish Water Spaniel: Head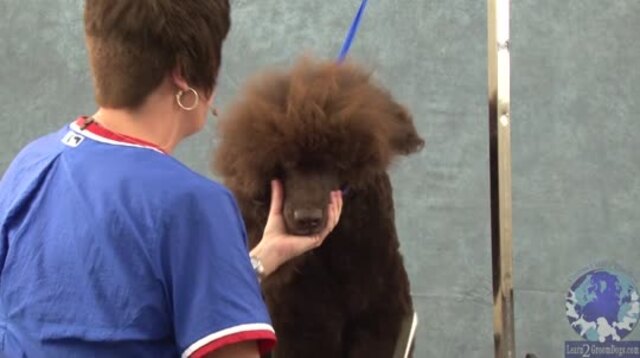 This video content is exclusively for Learn2GroomDogs members.
To watch the full video, either
Login
or
Explore Membership
today!
Video Description
About Michell Evans
Runtime:
20 minutes, 17 seconds
Level:
Advanced Stylist
In this video, Michell discusses the breed. As she introduces the IWS, she highlights unique features on this breed. She talks about basic pattern and structure of the dog. What blades to use on the face and tail along with guard comb options to set the pattern while accentuating the breed profile, balance and style on an Irish Water Spaniel.
In this video you will learn:
• What unique item does the IWS have on its lower jaw
• How to visualize a balanced dog
• What type of shears to use over the dog and why
• Why is this a great dog for beginners to learn how to scissor on
• How to create a forechest without making the dog look long in body
Michell Evans
Certifications: NCMG, CMG
Michell Evans is a multi-Best in Show and Best All Around groomer. She is Certified Master Groomer through National Dog Groomers Association of America (NDGAA) and the International Professional Groomers Incorporated (IPG) and International Society of Canine Cosmetologists.
She is the proud recipient of the 2011 Barkleigh Honors Competitive Groomer of the Year Award. She is also the first competitor to have the honor of earning a spot for her name on the John Nash Memorial Trophy.
She earned the Liz Paul Memorial Trophy for 2011 and Liz Paul Best Scissored Poodle Award.
She was a nominee in 2011 and 2012 for the prestigious Crystal Grooming Awards, Competitive Groomer of the Year.
Michell is a judge, speaker and demonstrator at the top trade shows around the country.
She was a GroomTeam USA member 2009-2012 and was the hand stripping member of the Silver Medal winning team at the World Team Championships in 2011. She represented the United States again in Barcelona, Spain in 2013.
For more information about lessons with Michell please contact her at michell@groomingtutor.com or (505) 830-9123.
Categories
Feature Type
Techniques
Levels
Breed Group
Breeds In This Video