Personal Health & Wellness for Pet Groomers and Stylists (Part 1of 3-part Series)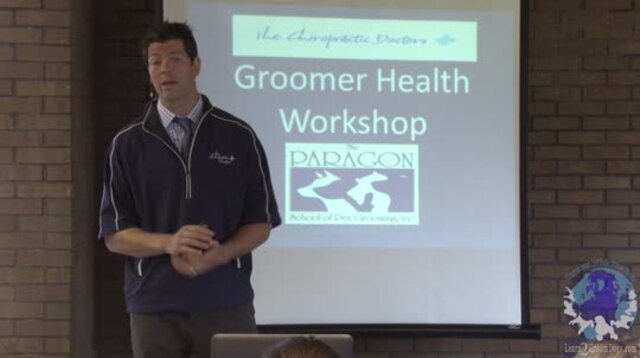 This video content is exclusively for Learn2GroomDogs members.
To watch the full video, either
Login
or
Explore Membership
today!
Video Description
About Dr. Matthew Phinney
Runtime:
18 minutes, 42 seconds
Level:
Information
Occupational athletes. That's what pet care professionals are. In order for athletes to be successful, they need to train and pay attention to their overall health. There are five main areas of our lives that we have full control over. How we manage those five areas can greatly influence the longevity of our careers and how we feel.
The pet grooming industry is booming. It's no secret. There are more jobs than there are groomers. But it's also an industry where approximately 50% of all pet professionals experience pain at some point in their career. Are you one of them? Have you let your pain go to the point where you are forced to deal with crisis care? Has your pain forced you to step away from the grooming table? Or worse yet, permanently lay down your shears?
If you could remove that pain through self-care and preventative health care, would you? Without drugs. Without surgery. In many cases, you can.
Stop the chronic band-aid approach to healthcare in this country. Being proactive with your overall health is very doable by EVERYONE. Much of it you can do yourself through diet and exercise. Other areas will require you to enlist in the assistance of healthcare providers to maintain optimum health without going into crisis-care. Do a little research. Discover the root cause of your problem. Focus on correcting the core problem, not by taking a drug to mask the problem unless you have no other alternative
This presentation is a must see for all pet groomers! This presentation was filmed before a live audience at the Paragon School of Pet Grooming in Jenison, Michigan. Our Founder, Melissa Verplank, and popular L2GD Training Partner Judy Hudson are sitting in the audience. Both make important comments as Dr. Matt presents this amazing presentation.
We feel this is an important video that should not be missed. Your health and your career depend on you to learn, listen, and apply knowledge from this type of wellness program.
Dr. Matthew Phinney
Dr. Matthew Phinney was raised in Markham, ON and graduated from Bishop's University in Quebec Canada in 2004 and then from Palmer College of Chiropractic in Davenport Iowa in 2010. He is currently a member of the International Chiropractors Association and the Michigan Chiropractic Association.
Dr. Phinney developed an interest in chiropractic while he was training and playing rugby with the Canadian National team. In 2006 while on a rugby tour to New Zealand, he injured two discs in his neck during a match. The limited ability of conventional medicine to understand and treat his injury left a strong impression on him. It wasn't until he returned to his home in Victoria, BC that a chiropractor was able to help him, it was then Dr. Phinney decided to pursue chiropractic as a profession.