Styling the Portuguese Water Dog Tail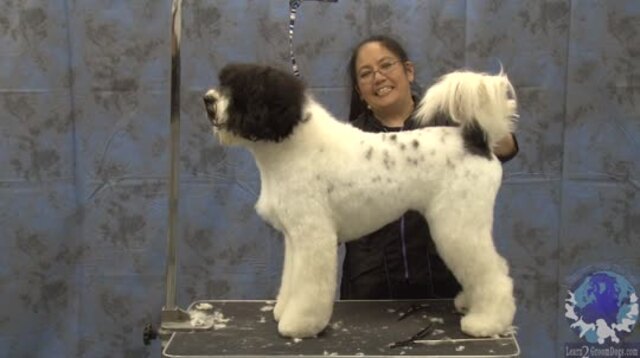 This video content is exclusively for Learn2GroomDogs members.
To watch the full video, either
Login
or
Explore Membership
today!
Video Description
About Annette Quick
Runtime:
7 minutes, 4 seconds
Level:
Stylist
Award winning pet stylist Annette Quick shows you how to style a Portuguese Water Dog tail. Their tail is somewhat unique with the curved tail set combined with about half the tail being trimmed close and the other half carries a plume. Not only do her tips work for the PWD, but Annette talks about other breeds where she applies some of the same trimming principles.
Annette Quick
Certifications: CMG
In her first year as a Division A competitor in 1997, she garnered the top spot on GroomTeam USA. Annette maintained a position on GroomTeam USA each year through 2000 and helped the USA Team bring home the silver medal from Eurogroom London, England, and the Gold Medal from Calgary, Alberta, Canada. She has won multiple "Best in Show" and "Best all around Groomer" awards at shows nationally as well as internationally and was the "Best in Show" winner in Argengroom in Buenos Aires, Argentina in 1998.
Annette has shown dogs.  She also has titles in obedience, agility, and confirmation. She has been nominated for several Cardinal Crystal Grooming Achievement Awards and won the award for American Groomer of the Year in 1999.
Annette is active in the pet grooming industry, in an industry speaker and judges at grooming shows.  She is also a member of the Wahl Extreme Team.
Categories
Feature Type
Levels
Breed Group
Breeds In This Video