In the second installment of this 6-part, double feature lesson series, Angela is going to walk you through the carving and dying process of an elaborate creative design. In the first installment, she started with a white, fuzzy, grown-out miniature Poodle and transformed side A into a giraffe design. Now she will create a vividly colored crane design on the second side of the dog.
In this video you will learn:
How to block in a design concept
How to get clean, crisp color lines
Different ways to apply color so it's rich and vibrant
How to apply color to longer leg coat
Finishing details to pull the entire design together
Start Learning with Angela
If you're a member, be sure to Log In and check out the video HERE so you can add it to your favorites and get the full details! If you're not a member, click below to watch a free preview of the video.
A Full Creative African Animal Design - Creating a Giraffe Design
A Full Creative African Animal Design - Creating a Crane Design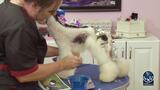 A Full Creative African Animal Design - Creating a Crane Design with Angela Kumpe