Airbrushing on a Dark Colored Dog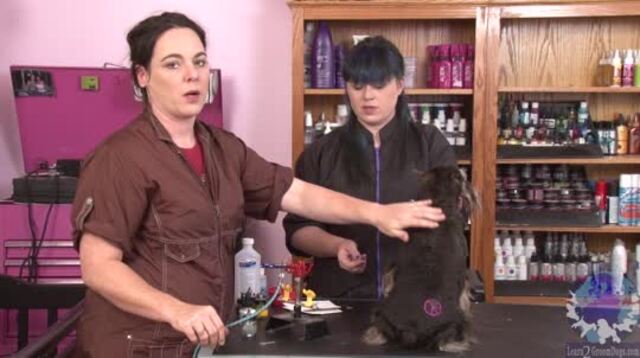 This video content is exclusively for Learn2GroomDogs members.
To watch the full video, either
Login
or
Explore Membership
today!
Video Description
About Angela Kumpe
About Lori Craig
Runtime:
7 minutes, 17 seconds
Level:
Information
Have you crossed over into the creative styling world yet? Added touches of fun color to a few of your clients dogs? Sure, the light colored dogs are easy to add a hint of color to their coats, but what about dark colored dogs? Now there's a challenge!
The goddess of color, Angela Kumpe, and her trusty assistant, Lori Craig, show you how to work with a dark coat. In this quick lesson, Angela airbrushes a butterfly on the back of this black coated Schnauzer.
Once you master the art of airbrushing, applying this type of simple design to the dogs is easy. It's a super fun add-on to your salon services, and a revenue generator to boot! We'd call that a win-win.
In this video you will learn:
• how to work with a stencil.
• how to make color pop on a dark colored dog.
• how to lay in the color.
• the advantages of using an airbrush over other coloring tools.
• how to clean up any rough spots.
Angela Kumpe
Angela Kumpe is a world-renowned speaker, judge, retailer, author and competitor on the creative styling circuit. She is passionate about pets and innovative force in the world of creative pet styling.
Angela is a self-taught pet stylist. She has worked professionally since the mid 90's in Little Rock, Arkansas. Recently, she closed her salon, A to focus on her mobile grooming business, Designer Dogs and teach creative pet grooming to aspiring creative pet enthusiasts.
She was fascinated the first time she saw a creative design on the cover of a Groomer to Groomer magazine. In 2001 , she entered her first creative grooming competition and been hooked ever since. She has had countless awards in creative grooming competitions around the country. She has won the Barkleigh Honors Award for Creative Groomer of the Year four times and made the coveted cover of Groomer to Groomer Magazine seven times.
Angela is a published author. In 2007 she wrote a one-of-a-kind book, 'A Creative Collection.' Her book helps other pet stylists master the art of creative pet styling. In 2013, she published a second book 'The Ultimate Guide to Salon Creative' focusing on creative styling for everyday salon settings.
On her website at A Creative Collection, Angela has products and education material to assist other creative pet professionals. Today you can find Angela and her team attending industry trade shows teaching, competing, and running A Creative Collection booth around the country.
Angela's creative styling abilities have been featured on several national TV and news programs including; TLC's Extreme Poodles, Animal Planets Most Extreme, Good Morning America, Fox & Friends, and The Today Show. She's also had numerous articles in newspapers and magazines including the New York Times. Angela is also featured with other creative stylists in an amazing documentary called, "Well Groomed." The film has been featured in numerous film festivals all over the country. Recently, it was purchased by HBO and is set to air sometime in December 2019
Affordable private, hands-on classes are available in Little Rock, Arkansas. Angel also offers hands-on seminars together with creative legends, Adrian Pope and Lori Craig, around the country. To book/host a seminar, contact Angela directly.
You can find more information about creative styling, products and educational events on her website.
Please contact us for availability.
(501) 897-6705
E-Mail: angela@angelasgrooming.us
Lori Craig
Lori has been grooming since 1996. She went to Academy of Professional Dog Grooming. During school she started working at Classic Pets & Grooming. In September of 1997 she opened Doggie Styles Grooming. In 2019 her salon was awarded the winner Top Local Pet Groomer in Oklahoma.
In 2004 she attended The Pet Pro Classic grooming conference in Dallas, Texas. She saw her first grooming competition. She was hooked! Lori went out and bought a standard poodle for competition. The next year she competed in Dallas entering three different groups including creative styling.
Lori has gone on to be a multi-award-winning creative stylist and instructor. She has placed in almost every creative competition she has entered. She has been featured four times on the cover of Groomer-to-Groomer magazine with her artistic creations.
In 2011, her "Lion King" design, was undefeated, earning her a Barkleigh Honors Award. She also won the Barkleigh Honors award for Creative Stylist of the Year in 2015. In 2016, Lori's passion for creative grooming was honored when she was awarded the Liz Paul Creative Stylist of the Year.
She has had the privilege of teaching creative grooming skills to groomers across the country - and around the world. She has traveled the world including Singapore, Scotland, Ireland, England and Canada teaching others how to turn their dogs into living artwork. Her work has been seen on TLC's show EXTREME POODLES, where she won first place. She has also been on the Today Show, Fox and Friends, TV Guide, AOL's Popeater, and many other TV shows.
Lori is the Vice President and a certifier for the National Society of Creative Stylists. Lori also works with the Creative Groomers Association, helping educate and promote creative styling worldwide.
Lori is part of a unique group of extremely talented professional pet stylists. She has been selected to be a part of the Wahl Elite Team, providing grooming education, inspiration and demonstrations around the world.
Lori Craig can be reached at E-Mail: Lcraig30@cox.net for private training and coaching.
Categories
Feature Type
Breeds In This Video