Creative Styling: Two Tone Dye Work & Feather Extensions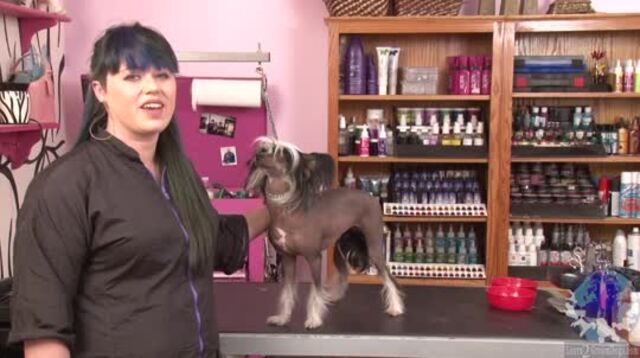 This video content is exclusively for Learn2GroomDogs members.
To watch the full video, either
Login
or
Explore Membership
today!
Video Description
About Lori Craig
Runtime:
20 minutes, 6 seconds
Level:
Information
Would you like to add a splash of color to the toes of any of your light colored pets? Or what about two colors on the lower legs? Award winning creative pet stylist, Lori Craig, shows you how to apply bright colors to any pet. In this lesson she uses her own Chinese Crested to demonstrate how to get this two-toned effect.
To pull the entire look together, Lori shows you how simple it is to add feather extensions. For pets that dont care for bows, feathers can be a great alternative. They are lighter than bows. And they are as light as a feather! Most dogs dont even know they have anything attached to their fur.
This is a very fun look that isnt to challenging to do even if you are a beginner creative stylist.
In this video you will learn:
• How to apply two different colors to the legs
• What hair dye offers the most vibrant color
• What types of products does she feel most comfortable with and why
• Where to get products
• How to put in feather extensions that stay put
Lori Craig
Lori has been grooming since 1996. She went to Academy of Professional Dog Grooming. During school she started working at Classic Pets & Grooming. In September of 1997 she opened Doggie Styles Grooming. In 2019 her salon was awarded the winner Top Local Pet Groomer in Oklahoma.
In 2004 she attended The Pet Pro Classic grooming conference in Dallas, Texas. She saw her first grooming competition. She was hooked! Lori went out and bought a standard poodle for competition. The next year she competed in Dallas entering three different groups including creative styling.
Lori has gone on to be a multi-award-winning creative stylist and instructor. She has placed in almost every creative competition she has entered. She has been featured four times on the cover of Groomer-to-Groomer magazine with her artistic creations.
In 2011, her "Lion King" design, was undefeated, earning her a Barkleigh Honors Award. She also won the Barkleigh Honors award for Creative Stylist of the Year in 2015. In 2016, Lori's passion for creative grooming was honored when she was awarded the Liz Paul Creative Stylist of the Year.
She has had the privilege of teaching creative grooming skills to groomers across the country - and around the world. She has traveled the world including Singapore, Scotland, Ireland, England and Canada teaching others how to turn their dogs into living artwork. Her work has been seen on TLC's show EXTREME POODLES, where she won first place. She has also been on the Today Show, Fox and Friends, TV Guide, AOL's Popeater, and many other TV shows.
Lori is the Vice President and a certifier for the National Society of Creative Stylists. Lori also works with the Creative Groomers Association, helping educate and promote creative styling worldwide.
Lori is part of a unique group of extremely talented professional pet stylists. She has been selected to be a part of the Wahl Elite Team, providing grooming education, inspiration and demonstrations around the world.
Lori Craig can be reached at E-Mail: Lcraig30@cox.net for private training and coaching.