Bathing and Drying a Long Haired Cat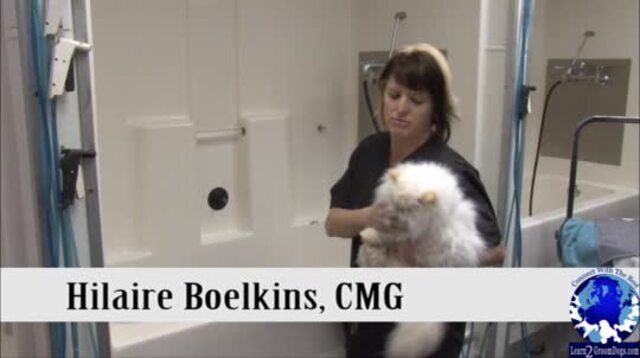 This video content is exclusively for Learn2GroomDogs members.
To watch the full video, either
Login
or
Explore Membership
today!
Video Description
About Hilaire Boelkins
Runtime:
28 minutes, 4 seconds
Level:
Information
Hilaire is an experienced Instructor and Lead Trainer at The Paragon School of Pet Grooming. She's the resident cat expert – or cat 'whisperer' might be a better term for her. There is rarely a feline Hilaire can't groom. In this session, she leads you through the bathing and drying process of a long haired Himalayan kitty. She shares some of her best handling secrets that will keep the cat and the handler safe. Plus, she lets you in on some of her favorite products, techniques, and tools she uses on long haired cats to get them clean and tangle free.
In this video you will learn:
• How to safely & comfortably restrain a cat
• How to do pre-work on a cat, including nails, sanitary clipping, and dematting
• Which equipment is the most efficient
• How to brush & comb any mats and undercoat remaining after the bathing and drying process
• How to put finishing touches on a cat
Hilaire Boelkins
Certifications: CMG
Hilarie Boelkins has over 14 years of experience in the pet grooming field.  She is a Certified Master Groomer, an experienced competitor in the show ring, was lead trainer at The Paragon School of Pet Grooming, and an active pet stylist.  Ms. Boelkins' specialties include hand stripping, breed profile trimming, cat grooming, and working with special needs and geriatric pets.
Categories
Feature Type
Techniques