Grooming the Long Haired Cat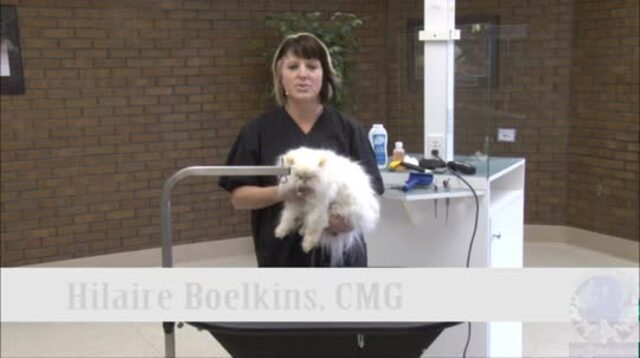 This video content is exclusively for Learn2GroomDogs members.
To watch the full video, either
Login
or
Explore Membership
today!
Video Description
About Hilaire Boelkins
Runtime:
59 minutes, 16 seconds
Level:
Information
Hilaire is back with the second session of cat grooming – finishing the kitty so it's mat and tangle free. She'll show you her personal secrets to safely work with a cat including trigger points to watch for when a cat's body language is telling you it's had enough. She'll even finish the groom with an adorable bow. You can clearly see Anna is thrilled with this entire process – especially the pink bow!
In this video you will learn:
Different methods to keep the kitty calm.
Standard grooming practices for most long-haired cats.
Options to safely restrain a cat.
Which tools work best on felines.
How to safely remove mats from the coat.

… plus lots of handling tips and tricks throughout the entire video.
Hilaire Boelkins
Certifications: CMG
Hilarie Boelkins has over 14 years of experience in the pet grooming field.  She is a Certified Master Groomer, an experienced competitor in the show ring, was lead trainer at The Paragon School of Pet Grooming, and an active pet stylist.  Ms. Boelkins' specialties include hand stripping, breed profile trimming, cat grooming, and working with special needs and geriatric pets.